Welcome to our DCOP family Website!
DCOP is a Non-Profit 501(c)(3) Charitable Organization


supporting those in need in our Tucson, AZ community through:


> Fundraising Events


> Individual & Business Donors


> Awarded Grants


Established ~ July 6, 2020 ~ TIN: 85-2791131
"By giving, we make a positive impact on that individual's life,
we become a blessing to others, and in return, we are truly blessed"
Melissa-Missy Garcia, President/Founder
DCOP FUNDRAISING FOR A CAUSE:
Adopt low-income families for the Thanksgiving and Christmas Holidays

Donations to Individuals dealing with a Illness or Chronic Disease

Memorial Donations to help with Expenses

Youth Sport Sponsorships

Supporting Schools and other Organizations that need a Helping Hand

Support Community Fundraisers and Events
~Our Mission~
DCOP is on a mission to help low-income families, individuals dealing with chronic illness, and community organizations through our fundraising efforts.
~Our Vision~
DCOP envisions a community where all families achieve financial stability and individuals live healthier lives.
COURAGE
:
We have the ability to do what needs to be done, regardless of the cost or risk.
COLLABORATION
: We believe in the power of working together, we go above and beyond to exceed.
COMPASSION
: We recognize someone's suffering and act on the desire to alleviate it, we act from love, empathy and kindness.
Save the Date...Saturday October 14th for the 3rd Annual Brother Johns Cars, Trucks & Motorcycles Show. More information to follow including categories & special awards by David Gallardo and Hector Lopez.*All Welcome* Please Help Spread the Word, Much Appreciated!
DCOP_Nonprofit_Sponsor
DCOP 2023 COMMUNITY EVENT SPONSOR/SUPPORTER
Hello Everyone, registration begins tomorrow for the 5th Annual Truly Nolan Community Car Show benefiting Ramon's Miracle on 31st Street Holiday Toy Drive. More information to follow by our Brother Ray Rico. Please Save the Date!
#DCOP_Supporter
The DCOP Family Appreciates All Who Attended Our 3rd Annual End of School Car Show Benefiting Apollo Middle School Students
Saturday, May 20, 2023 at 265 W Nebraska St., Tucson AZ 85706 Showtime: 11am to 2pm
This is a Free Public Event for the Entire Family
From Dr. Thad Dugan, Principal of Apollo Middle School
"Apollo is a community school with an emphasis on preparing students for high school so that they can be college, career, and community ready. We have a staff of caring adults that demonstrate a growth mindset in our approach to our work with students. Our goal is to ensure that our students understand the opportunities that high school has to offer to make the best decisions as they take the next steps in their academic careers".
Much Love and Appreciation to The Old Pueblo Community...
AMAZING SUPPORT IN 2023 Please Join DCOP at Pistor Middle School for our 4th Annual End of School Car Show in May of 2024, woot woot!
Collecting School Supplies for Apollo Students - We Appreciate your Support!
Vehicle Registration Information
1st & 2nd Place Trophies in 15 Categories plus 10 Special Awards Cars & Trucks - $25
Motorcycles, Lowrider Bikes, Pedals & Wagons - $15
We would like to thank those individuals that pre-registered their vehicles by May 6th - we received an outstanding 40+ pre-registrations!
Come Support our Local Vendors
** DJ SUPPORTER **
Jason Speer
We greatly appreciate all Sponsors, Participants, Vendors and Spectators for supporting DCOP and Apollo Middle School!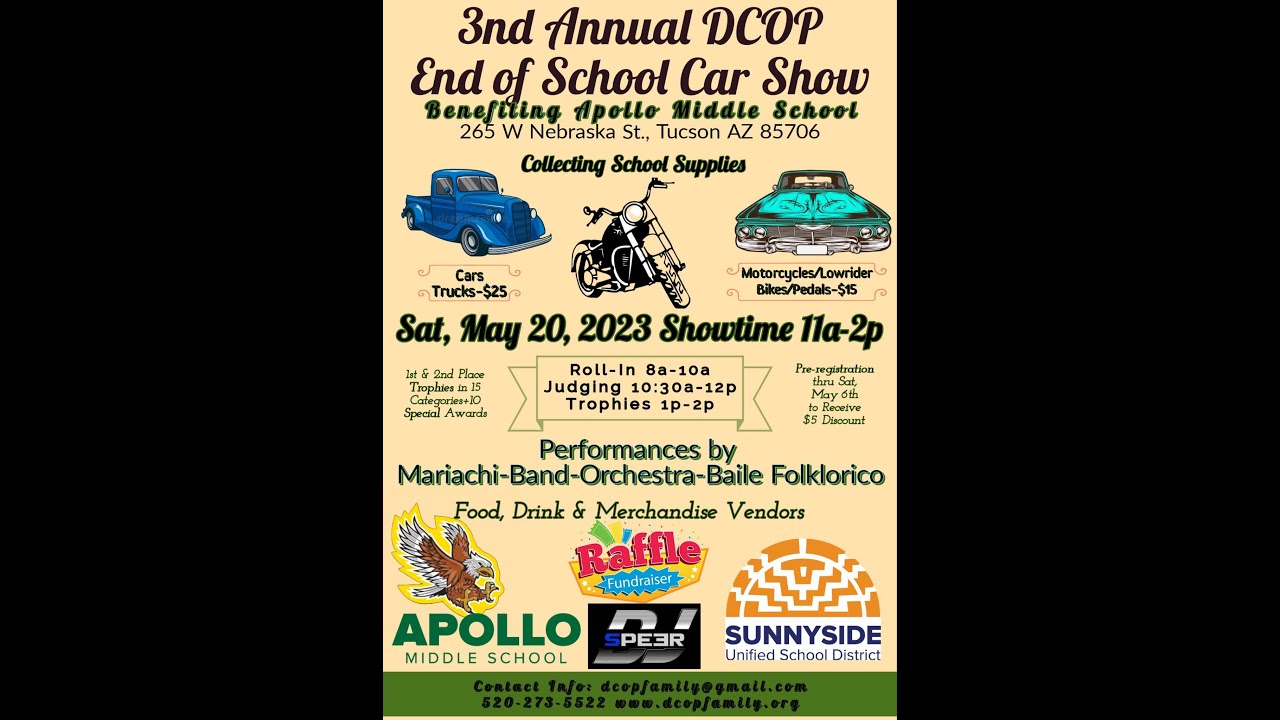 The DCOP Family thanks Patty Ruiz, General Manager of Bustos Media for supporting our 3rd Annual End of School Car Show!
What our Community Partners & Supporters Say...
Privavera Foundation 151 W. 40th Street Tucson, AZ 85713
"You are all amazing! Your compassion and generosity are wonderful gifts in the lives our neighbors in need-especially during such challenging and uncertain times as these. Thank you all for allowing us to do even more to help those who need our help more and more than ever right now. We appreciate you!"
Joann Salazar, Chief Philanthropy Officer
Cafe Santa Rosa 2615 S 6th Avenue Tucson, AZ 85705
" Be the Change that you wish to see in the world. We are proud to be part of the DCOP family. Thank you all for all you do for our community. Working together, we can accomplish anything!" The Gonzales Family
Daniel and Julissa Gonzales, Owner
It is important for DCOP's Charitable Organization to collect feedback from our community. Gathering the opinions of those who are experiencing our business from the outside looking in gives a valuable perspective and is a crucial step to our success!
La Paloma Family Services, Inc. 870 W Miracle Mile rd
Tucson, AZ 85705
"Thank you so much for all you do for Tucson!! La Paloma is so excited to partner with you and I know our foster children will be appreciative as well."
Kimberly K Sampliner, Director
Akanni Oyegbola, South Tucson Acting Mayor
"As a community we all benefit when we work together.
Nonprofits such as DCOP play a fundamental role in creating a more equitable and thriving community here in South Tucson.
I have witnessed first hand how the DCOP organization's has provided a positive impact with regard to social stratification.
For example their collaboration with several local organizations to invest and
open opportunities for local families.
Thank you for all you do in the South Tucson community! "
Akanni Oyegbola, Acting Mayor of South Tucson
More Than a Bed 3637 North 1st Avenue Tucson, AZ 85719
"Thank you so much for your DCOP donation. With your gift, we are able to purchase much needed items that children require once they enter the foster care system such as beds, car seats, diapers and underwear. We are thankful that you have chosen to support our mission - providing essential items to foster, kinship and adoptive families for the children in their homes because every child deserves to be valued. A simple thank you seems inadequate but please know that we are so grateful that you choose to support More Than a Bed. We cannot continue our mission without support from donors like you."
Grace Stocksdale, Executive Director
Together, we are Improving Lives and Strengthening our Tucson Community
Teenage Parent High School
Tucson Unified School District 102 N. Plumer Ave, Tucson, AZ 85719
"Thank you DCOP Family so much for all of your effort, care and work towards supporting our students. They were so excited to receive their gifts and were really appreciative."
Sarah Deurloo, LMSW School Social Worker
John Valenzuela Youth Center
1550 S. 6th Ave
Tucson AZ 85713
"Thank you for reaching out to JVYC and providing this wonderful opportunity for our families. You guys are amazing!"
Jessica Alderete
Program Director
Community Partners & More